Charalambos Moyseos joins the CABLENET family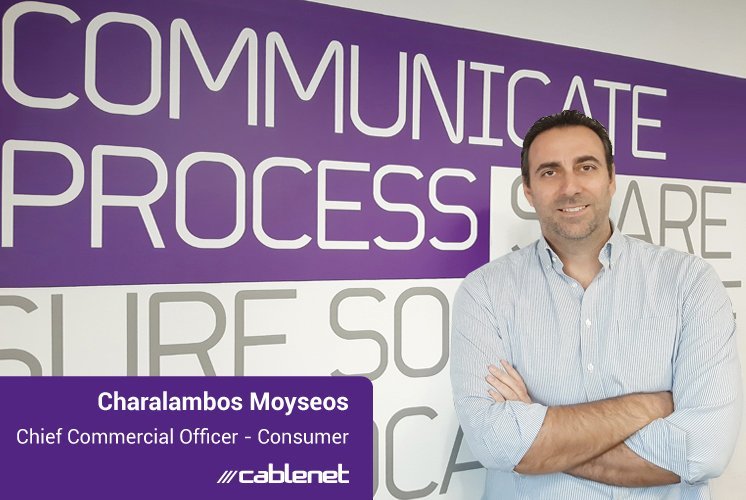 CABLENET is extremely pleased to welcome Mr. Charalambos Moyseos to its team, appointed as the company's Chief Commercial Officer (CCO Consumer) in October 2020.
Mr. Moyseos has 20 years' experience in the Cypriot and overseas Technology & Telecommunications sector, participating in pioneering projects for digital upgrading and the introduction of innovative services. His career encompasses significant successes in various economic sectors with multinational companies whereby he simultaneously gained valuable experience in commercial activity and the implementation of large companies' growth models. Before joining Cablenet, Mr. Moyseos was Head of Technology Advisory Services at EY (Ernst & Young) where he focused on Consulting Services for digital restructuring projects, IoT and smart cities, as well as the development of solutions based on advanced technologies, such as RPA, Blockchain, AI and Machine Learning.
He first became involved in the Telecommunications sector in 2004 where he had an active role in, amongst others, introducing new providers to highly competitive markets; planning and implementing innovative projects in the FixedMobile Convergence (FMC) field; and integrating advanced technologies to the IPTV service through the implementation of high definition decoder infrastructure. In order to implement these projects, he has co-operated with global giants including Cisco, Microsoft, Oracle and Accenture.
At Cablenet, he aims to successfully advance the company's growth in order to establish it as the consumers' primary choice in all the services it offers. Given the market's changeable purchasing behaviour, as well as consumers' differentiated needs, particular emphasis will be placed on leveraging all digital means for customer service. At the same time, the dynamic presence of Cablenet's front-line staff will support this effort with daily, active communication with consumers.
At this point in time, when important announcements are expected from Cablenet, the contribution of Mr. Moyseos, with his customer-centric approach, will prove valuable for the evolution and success of the company.
We welcome Charalambos and wish him success in his new duties within Cablenet's growing family, and look forward to our continued success together!